Airbus opened its first North American design and engineering facility in 2002.
To manage the steep and steady ramp-up of industrial activities and meet continued strong demand for its aircraft, Airbus co-locates key contributing functions such as engineering and procurement with its primary production facilities in Germany, France, the UK and Spain.
In Germany, the city of Hamburg focuses on structural assembly and outfitting of fuselage sections, final assembly of A320 Family aircraft, A380 major component assembly, as well as manufacturing and equipping the rear fuselage sections for the A330 and A350 XWB programmes. Employees in Bremen are responsible for the design and manufacture of high-lift systems for the wings on all Airbus aircraft. Vertical tails are produced at Stade, as are other carbon fibre-reinforced plastic components such as flaps for single-aisle A320 Family aircraft, and spoilers for the A330. All the electronic communications and cabin management systems needed by both crew and passengers are designed and produced at the Buxtehude site.
Employees in Toulouse, France – the headquarters of Airbus – are responsible for engineering, structure testing, flight tests, and more. The area around Toulouse-Blagnac Airport is home to a delivery centre for completed aircraft as well as final assembly lines for the A320, A330, A350 XWB and A380 jetliners. Toulouse Saint-Eloi is responsible for delivering equipped and tested pylons to the final assembly lines. The plant at Saint-Nazaire specialises in structural assembly, equipping and testing of front and central fuselage sections for the entire Airbus family. Nantes specialises in the manufacture and assembly of the centre wing boxes for all Airbus aircraft, and is a leader in creating carbon fibre-reinforced plastic structural parts.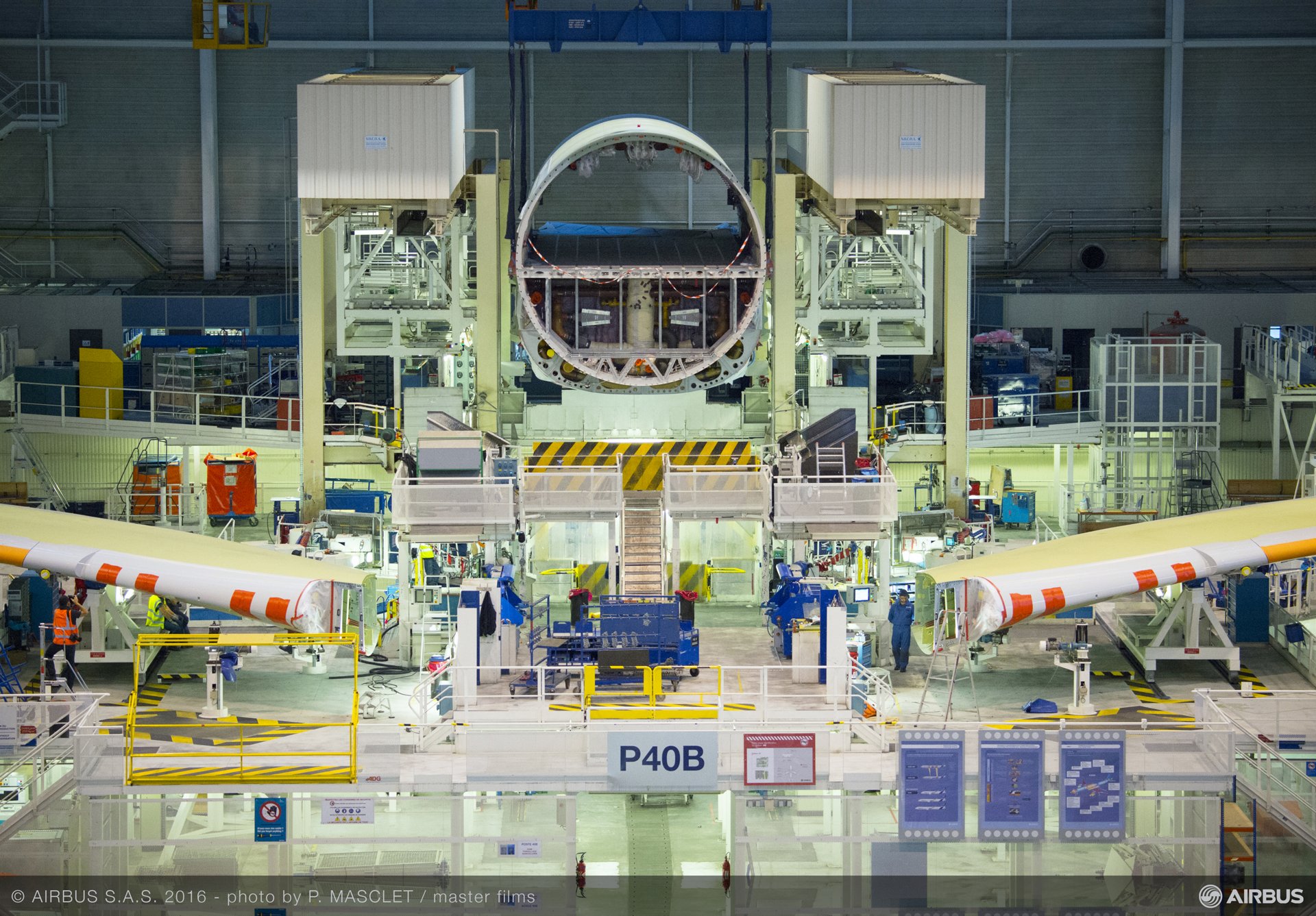 The elements of an A330neo widebody jetliner start coming together at the final assembly line, or FAL, adjacent to Toulouse-Blagnac Airport in southwestern France. The A330 Family integrates the latest developments from the A350 XWB and A380 aircraft families to maintain its position as the best in its class.
Located in North Wales, UK, Airbus' Broughton site assembles wings for the company's entire family of commercial aircraft – more than 1,000 per year. The city of Filton focuses on engineering and research & technology groups for wing design, landing gear and fuel systems design and testing, and the manufacturing of various components.
The Airbus Getafe, Spain location specialises in aeronautical component engineering, design, production and assembly, utilising both metallics and advanced composite materials to manufacture airframe components for all Airbus aircraft. The Illescas site is a leader in manufacturing composite aeronautical components, mainly large-scale or complex shaped parts as the A350 XWB's wing lower cover. Puerto Real, in the south of Spain, specialises in the automated assembly of movable surfaces (rudders and spars) for all Airbus jetliners and produces the horizontal tail boxes of the A350 XWB.
Source :  Airbus WEBSITE