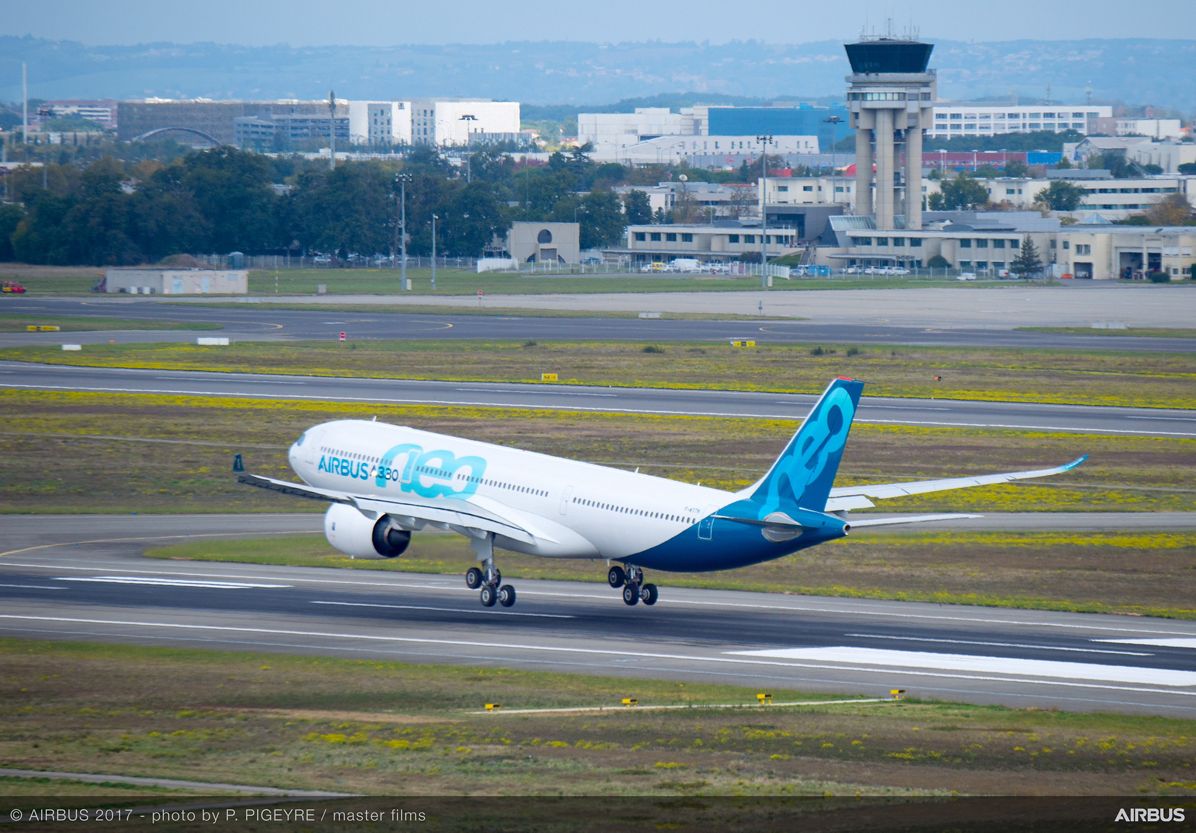 Three dedicated flight-test aircraft to perform all flight testing for both the A330-800 and A330-900 variants;
Development on track for A330-900 entry into service in the middle of 2018
The first of three A330neo Family development aircraft to fly – MSN1795, an A330-900 variant – has landed at Toulouse-Blagnac, France at 14:10 local time after successfully completing its first flight which lasted 4 hours and 13 minutes. The aircraft was powered by the latest technology Rolls-Royce Trent 7000 turbofans.
The crew in the cockpit on board this flight comprised: Experimental Test Pilots Thierry BOURGES, Thomas WILHELM and Test-Flight Engineer Alain POURCHET. Meanwhile, monitoring the aircraft systems and performance in real-time at the flight-test-engineer's (FTE) station are Jean-Philippe COTTET, Emiliano REQUENA ESTEBAN and Gert WUNDERLICH.
Fabrice Brégier, Airbus COO and President of Airbus Commercial Aircraft said: "Today's first flight of the A330neo marks yet another milestone along the Airbus journey of continuous innovation." He added: "My congratulations and thanks go to all the teams who have contributed to make today's flight happen, and to our customers for choosing this very efficient and capable aircraft to give them market advantage. We look forward to a successful flight test campaign and entry into service of the A330neo in 2018."
Airbus has developed a fast-paced development programme from launch to first A330neo delivery. This will comprise 1,100 flight hours for the A330-900 campaign – to achieve its EASA and FAA Type Certification around the middle of 2018. An additional 300 flight hours is also allocated for the A330-800's own certification flight-test campaign – which will commence in due course. These respective campaigns will be performed in an 'airline like' environment, ensuring maximum aircraft maturity and reliability at entry into service (EIS) with A330-900 launch operator TAP Portugal. This phase will also define the mature aircraft documentation to be available for airline operators at EIS.
Overall, the full flight-test campaigns for both models will be performed by two A330-900s and one A330-800 respectively. To complement these dedicated flight-test aircraft, the first production A330-900 aircraft will also be tasked to validate the full Airspace cabin.
Launched in July 2014, the A330neo is the latest generation in Airbus' market-leading A330 product line, comprising two versions: the A330-800 and A330-900. Both of these widebody aircraft incorporate new Rolls-Royce Trent 7000 engines, nacelle, titanium pylon, new wings and an Airspace by Airbus Cabin. The most visible new features of the A330neo are the new wing span extensions to 64m total (up from the CEO's 60.3m span) and the specially developed curved wingtip Sharklets – which draw on A350 XWB technology. Less visible, but equally important is the implementation of enhanced 3D-optimised aerodynamic refinements along the overall wing profile. Meanwhile, the Trent 7000s deliver double-digit fuel burn improvements and the quietest operation thanks to latest technology components, materials, new 'zero-splice' inlet and composite nacelle, 'fully-faired' pylon and also the larger (112-inch diameter) slower-rotating front fan with a bypass ratio of 10:1 – compared with the typical 5:1 ratio of previous-generation turbofans.
Both the A330-800 and the A330-900 will accommodate up to 10 more passengers than their respective predecessors, thanks to their new Airspace interiors which introduce various cabin enablers to free-up more usable cabin space – thus ensuring that each passenger can enjoy a significantly better actual comfort level and in-flight experience versus that offered by any competing aircraft in its market sector. The larger A330-900 will accommodate up to 287 seats in a typical three-class layout, while the A330-800 typically will seat 257 passengers in three classes.
To date 12 customers have placed orders for a total of 212 A330neos.
Source  :  Airbus Website