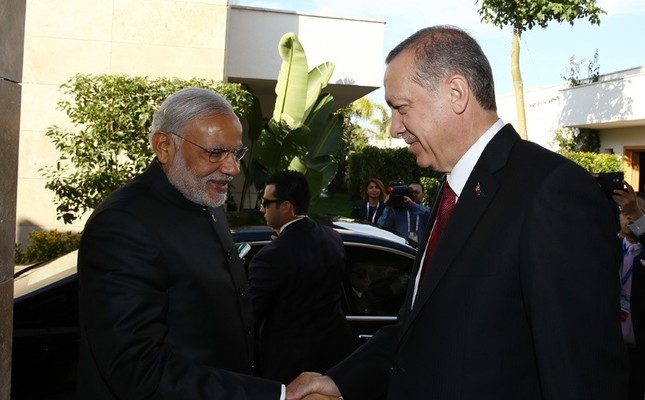 Turkish President Recep Tayyip Erdoğan shakes hands with Indian Prime Minister Narendra Modi during G20 Summit 2015 in Turkey's Antalya.
Bilateral trade and economic cooperation between India and Turkey are set to be the main issues discussed during President Erdoğan's visit to India, his first stop, before he is scheduled to meet more key state leaders in May
President Recep Tayyip Erdoğan will have a busy schedule in May, as he is set to make visits to India, Russia, China and the United States. He will also attend a NATO meeting in Brussels. President Erdoğan's first stop will be India on Sunday where he will attend the Turkey-India Business Forum. Bilateral trade and economic cooperation between the two countries are expected to be the main topics discussed during the visit, as the business world pushes for a free trade deal. President Erdoğan will also meet his Indian counterpart Pranab Kumar Mukherjee, Vice President Hamid Ansari and Prime Minister Narendra Modi. Enjoying a historical connection that goes back over two millennia, Turkey and India have a long history of doing business with each other. Moreover, according to the Economy Ministry of Turkey, India was identified as one of Turkey's target countries to develop trade ties for the 2016-2017 period. India, which is Turkey's second largest trading partner in the Asia-Pacific region, is one of the fastest growing free market economies with a sustainable development model, which is built on the solid foundation of entrepreneurial energy, youthful dynamism and creativity.
According to the International Monetary Fund (IMF), the Indian economy is nominally the seventh largest in the world and the third largest economy in terms of the purchasing power parity. In the last quarter of 2014, the Indian economy passed China and became the world's fastest growing economy. India is predicted to be the third largest economy in the world in the next 10 years and one of the two largest economies in the middle of the century, according to the World Bank.
Recalling that India is one of the world's fastest growing economies, Foreign Economic Relations Board of Turkey (DEİK) Chairman Ömer Cihad Vardan said it displays a growth chart of 7-7.5 percent on a yearly basis. "They are in serious development in the field of information technology and are exporting software to the whole world. In addition, the call center services of global firms are being carried out by India in a wide range of maneuvers. However, the commercial relations of Turkey with such a country are very limited," he added.
In terms of the economic bilateral relations of the two countries, Turkey ranked 15th in India's exports in 2016 and 42nd in imports. The highest trade volume between the two countries was recorded in 2014, reaching $7.48 billion, according to the data compiled from the Economy Ministry of Turkey. Furthermore, Turkey's exports to India in 2016 reached $652 million. Mineral materials, vegetable products, basic metals, artworks, machinery and mechanical devices were major products exported to India. On the other hand, Turkey's imports from India were recorded as $5.7 billion, among which means of transport, mineral materials, machines and mechanical devices were the major products imported. The trade volume of the two countries was recorded as $6.4 billion, according to the Economy Ministry of Turkey, while the trade balance was $5.1 billion in favor of India. "Considering India's population of more than 1 billion, and the development trends, we have the obligation to develop our economic and commercial relations with India. For this reason, our visit with the president will be very important in terms of trade and investments," said Vardan.
Underscoring that there are sectors in India that can provide significant opportunities for Turkish companies, Vardan said, "These include construction, automotive, infrastructure, information technology, packaged food, as well as service sectors such as health and tourism," adding: "However, for our trade convergence with India, the free trade agreement between our countries needs to be signed urgently. In addition, it is necessary to update the Reciprocal Promotion and Protection of Investments and the Avoidance of Double Taxation agreements signed between Turkey and India."
Since 1973, a number of agreements and protocols have been signed between the two countries, including on maritime, air transport, railway, tourism and civil aviation. Also, investments by Turkish companies in India include sectors such as telecommunications, contracting, cosmetics, iron and steel, agricultural machinery, airport ground services, polyester production, pipeline construction, automotive supplier industry, textile, ceramics and electronic devices. Indicating that DEİK is organizing a business forum as a part of President Erdoğan's visit to India, Vardan said they will also create opportunities for bilateral talks with India's most important business circles. "In these events, we would like to expose the economic and commercial potential that has not yet been discovered between Turkey and India," said Vardan.
According to the Economy Ministry of Turkey, some of the major sectors with export potential are paste and fruit juices, biscuits, confectionery, chocolate, macaroni, olive oil, dried and hard-shelled fruits, ready-made garments, machine-woven carpet, glassware, construction materials, gold jewelry, textile machines, textile chemicals, paper napkins and towels.
Other sectors with high potential are agricultural products and food processing, furniture, textiles and apparel, leather processing, footwear, carpets, construction materials, textile chemicals, automotive subcontracting, glassware, jewelry, tourism and hospitality.
Joint Economic Commission (JEC) and Turkey-India Business Council are cooperation mechanisms on the economy and trade between the two countries. The two countries held 10 JEC meetings, the last of which was organized in New Delhi from Jan. 30-31, 2014. Being established in 1996, Turkish-Indian Business Council aims to improve bilateral trade and industrial cooperation.
Source : dailysabah.com